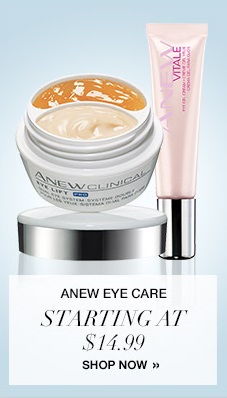 Avon eye creams – which one should you choose?

Avon Eye Creams – which one should you choose?   Our eyes have the thinnest layer of skin. Susceptible to wrinkles, puffiness and dark circles.  Over time the upper eye lid begins to sag and makes you look older.  These are the concerns that most of us have.  So, what are your eye care concern and which Avon eye cream should you use?
There are seven Avon eye creams to choose from. Here you will find all of Avon eye creams all in one place.  You can read what each product does and make the right choice for you.
Let's get started with:
Anew Vitale Eye Gel Cream
Wake up tired looking eyes and look refreshed and well rested all day. Anew Vitale Eye Gel Cream helps skin look energized and fight the signs of fatigue in the eye area. Hydrating gel cream, with VitaTone Complex, is formulated to strengthen skin's foundation and reduce the damage that can lead to puffiness.
Over time, the appearance of fine lines, dullness and fatigue virtually disappears. Skin around the eye area looks as if it has new life. .5 oz. net wt. Hypoallergenic.
TO USE
In morning and evening, apply to upper eyelid, under eye area and along crow's feet. Suitable for all skin tones.
100% of women showed improved radiance around the eye area over time.
Customer Reviews:
"A WONDERFUL, LIGHT, EFFECTIVE GEL"
"This is a great product for treating the delicate eye area. This gel is light and extremely effective"
"So far this is one of Avon's best eye treatment"
"I love this product. It's a nice smoothing cream and I find it works instantly to remove the dark circles from under my eyes. I don't have any fine lines, however my mom does and I recommended the product to her. She now uses it daily and loves it as well. You don't even have to use concealer"
"I used faithfully for last two months and cannot believe the results! Puffy bags, under my eyes, are down to a small area easily diminished with a highlighter"
"I am almost through my first tube and I love it! After using Lancome for years this eye cream has proven more effective. It absorbs quickly and I can use is on my upper lid without my makeup melting off in the afternoon!"
"I have also tried more expensive products and the only other product I like as much as this product is Mesningful Beauty which is endorsed my Cyndi Crawford. to me that is saying something"  It's definately a must try!!!
Anew Clinical Eye Lift Pro Dual Eye System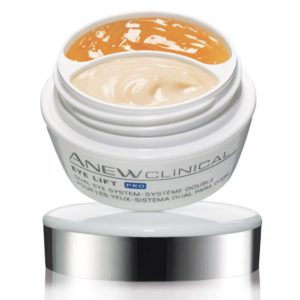 Our first visible eye lifting treatment with injectable-grade ingredients.* Clinical Eye Lift PRO Dual Eye System features: UPPER EYE & BROW BONE GEL: infused with a combination of injectable grade Arginine and PVP; UNDER EYE CREAM: with Derma-Refine Technology. Powerful results for eyes that look lifted like they defy gravity! Dermatologist-tested. Hypo-allergenic.
0.66 total fl. oz.
TO USE
Twice daily, apply gel to eyelid and brow bone area; apply cream to under eye area, including upper cheekbone.
*This is a cosmetic product for external use only. Follow usage instructions on product packaging.
Customer Reviews:
"GREAT MOISTURIZER FOR THE EYE AREA!"
"This moisturizer really smooth's the area under the eye, is light weight and absorbs well into the skin"
"I use it every morning and evening, wouldn't be without it".
"I NOTICED A DIFFERENCE WITH MY CROWSFEET WITHIN A WEEK! I LOVE THE MOISTURIZING FEEL IT GIVES ME AROUND THE EYES! MY FAV BY FAR!"
Anew Ultimate Multi-Performance Eye System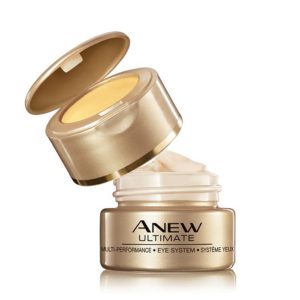 Awaken your eyes youthful beauty again with Anew Ultimate Multi-Performance Eye System. This anti-aging skin care formula combats 10 visible signs of aging to give you a youthful appearance. Celluvive Technology revitalizes skin cells to reduce fine wrinkles, heal discoloration and hydrate skin for a smoother texture. By starting this #1 selling anti-aging regimen you'll instantly feel your skin be moisturized and notice a new radiance. After two weeks you can notice a lessening of fine lines, deep wrinkles, and crow's feet. This eye cream restores natural skin volume and improves skin resiliance and protective qualities. After four weeks of this anti-aging routine you will have a more even skin tone as well as see your sagging skin lifted and firmed. The dual eye system includes 0.5 oz. of cream and 0.5 oz of elixir.
BENEFITS
• Hydrates and moisturizes skin around face
• Remove fine lines, wrinkles, and crow's feet
• Evens skin tone by eliminating discoloration
• Fragrance-free
• Hypoallergenic and non comedonic
• Allergy-tested, dermatologist-tested and ophthalmologist tested
TO USE
• In the morning/evening, apply ANEW Ultimate Eye Cream to the upper eye lid area, under eye area and crow's feet. Apply ANEW Ultimate Contouring Eye Salve, in the evening, directly over eye cream under eye and around crow's feet
Customer Reviews:
"I don't know the "technology", but all I can say is, after years and years of buying magic eye creams – this is finally it! It doesn't irritate my eyes like most of the others and yet works! I'm 48 and fair with all of my wrinkling in my eye area to include crepey skin, fine lines, deep lines and crow's feet – yay. So, immediately after applying, I noticed it seemed to rejuvenate the skin around my eyes, and each day brought a younger and younger look to my face because it diminished the lines, sagging, puffiness and dark circles! Wow! I use it as directed – twice daily, once in the AM after my shower and then in the PM before bed. You won't be disappointed!"
"I have used the Anew Ultimate eye cream for quite some time now & I have no complaints whatsoever. I can't be without it! I have started pairing it during the day with Avon's Ideal Flawless cream concealer which has added brightness to my under eye area – love it! Please continue this product!"
Anew Platinum Eye & Lip Cream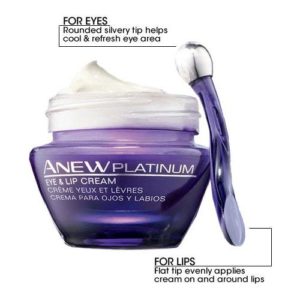 Paxillium Technology finally meets eye and lip treatment. Improve the natural Paxillin production of your eyelids and mouth to get defined contours, fuller skin, and a more youthful appearance overall. Special dual-tip applicator unlocks the potential of this dermatologist tested eye and lip cream. The rounded silvery tip cools and refreshes the eye area while the flat tip evenly applies cream on and around lips. 0.5 oz. net wt.
BENEFITS
• Define contours and lessen wrinkles
• Cool and refresh face while moisturizing
• Formulated to help reshape the look of the eye and lip area
• Hypoallergenic and non comedogenic
• Allergy-tested, dermatologist-tested and opthalmologist-tested
• Suitable for sensitive skin
TO USE
• In morning/evening, smooth around eye area with the rounded tip of applicator until fully absorbed, then apply on and around lips with the flat tip. Wipe implement with dry cloth after each use and store in plastic envelope.
*Based on women who expressed an opinion in a consumer-perception study. Made in USA
Customer Reviews:
"I use the eye moisturizer am and pm. The texture and dryness of my skin makes it mandatory to use it consistently. I will caution that if you use too much of this product, it will cause the makeup to roll off with the moisturizer and turns into a big mess. The other thing that helps this problem is to let it set and absorb a bit before applying concealer or makeup"
"I have used for about 5 years now. Am 80. Told look at least one generation younger. I have no wrinkles!
Only use Avon skincare for my face. Look at my order history for Platinum products!"
Anew Reversalist Complete Renewal Express Dual Eye System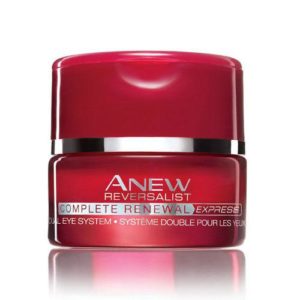 Brighten your eyes and get that youthful look with Anew Reversalist Complete Renewal Express Dual Eye System. Hydrate your eyes and make them pop with this two-pronged approach for anti aging skin care. The smoothing eye cream features Tri-Elastinex technology that moisturizes your skin while boosting its natural elasticity. Over time the targeted formula smoothes over fine lines and wrinkles, making crow's feet practically disappear. Anew Reversalist pairs the hydrating eye cream with the brightening veil for immedate effects. Apply it to the under eye area and notice a brighter look right away. Eye Cream 0.5 oz., Brightening Veil 0.09 oz.
BENEFITS
• Reduces the look of crow's feet and other fine lines
• Brightening veil immediately lightens appearance of eyes
• Is suitable for all skin types (dry, normal, oily)
• Absorbs quickly, non-greasy, non-tacky
• Hypoallergenic
• Allergy-tested, dermatologist-tested, opthalmologist-tested
TO USE
• Each morning and evening, apply cream to eyelids, under eye area, and crow's feet, apply brightening veil to under eye after applying cream
• Reapply throughout if necessary
Customer Reviews:
"I use this only at night because I like an eye moisturizer with sunscreen during the day. Works great. Very effective. Great price!"
"My crows feet are substantially diminished"
"I use the product every morning after cleansing and before make-up. Out of the many, many products I have tried over the past several years, I have found this product to be the most effective at the surprisingly most reasonable price"
Anew Clinical Absolute Even Dark Circle Corrector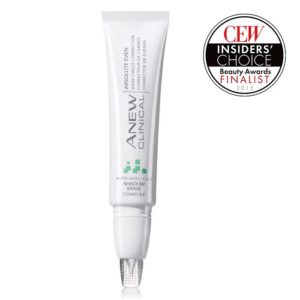 Are dark circles making you look older than you feel? Do you have too little time to work, let alone take care of those telltale signs of weariness? Anew Clinical Absolute Even Dark Circle Corrector is here to save you the stress and brighten your eyes! This eye cream contains Shadow Erase Complex which is designed to fight dark under eye circles three ways:
1. Brightens the look of dark circles with self-adjusting sheer optics
2. Visibly reduces under eye shadows
3. Smoothes the texture of skin of the eye areas
0.5 oz. net wt.
BENEFITS
• Reduces the look of dark under eye circles
• Brightens appearance of eyes
• Smoothes texture of eye areas
• Non-greasy, non-oily and non-sticky
• Works perfectly under makeup
• Is suitable for all skin types (dry, normal, oily)
• Allergy-tested and dermatologist-tested
TO USE
• Apply small amount of eye cream to under eye area and rub in. Be careful not to get in actual eyes. Made in USA 
Customer Reviews:
"I use this product in the morning when I wake up and right before bedtime. It works amazing! I notice a major change after the first time using it. I have been using it for about 2 weeks and my under eye circles are pretty much gone. Definitely will buy it again"
"I was really impressed how much brighter my eyes looked instantly after my very first use. I have always had trouble with dark circles that concealer couldn't really even cover up. This instantly makes me look awake and bright-eyed. I've been using it about two months and have really noticed a long-term difference. I have barely any circles under my eyes anymore. I also have sensitive skin and a lot of eye-area creams burn or sting but I have no problems at all with this"
Beauty Tips and More
Thanks for stopping by. If you like; share!!