Stimulate Collagen Production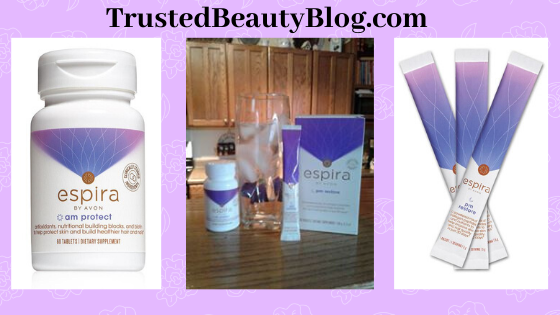 Collagen makes up 80% of our skin, and works with elastin which a protien that helps your skin bounce back.  But as we age, our bodies naturally start reducing collagen production which effects our skin, nails, hair and joints.
Starting in our 20s, we begin losing about 1% of our collagen each year. Sun exposure, cigarette smoke and pollution can also accelerate collagen breakdown.
Knowing this makes collagen supplements very appealing,but with the wide range of collagen powders on the market, which one should you choose?  
I am certainly not going to tell you what product to purchase, but will share what I have been using and let you decide if it is the right product for you.
Avon's Espira AM protect and nighttime restore are the products I have been using and I feel that they are a great combo for repairing, restoring and rebuilding collagen.  
About the Glow Product Line
DISCOVER YOUR NATURAL RADIANCE FROM WITHIN
Rejuvenation for hair, skin and nails starts here with our dual-action system, helping you look better than ever.† Help protect and rebuild in the morning, then help restore and repair on a cellular level while you sleep.†
Let's take a look at the Espira AM Protect first and how it works. 
Stimulate Collagen Production with Espira AM Protect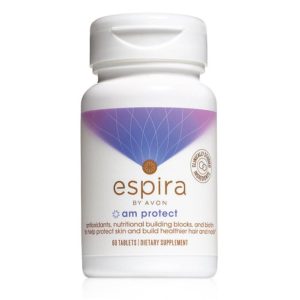 Take Avon's Espira AM protect when you wake up in the AM.  I like to take mine with food only because I have always had an issue with supplements upsetting my stomach.  It would be up to you if you feel you want to take it with food. 
This product has antioxidants and nutritional building blocks that are clinically studied to help protect skin from UV exposure while helping build healthy hair, skin and nails.†
• Gluten-free
• 60 tablets
• Vegetarian
• Non-GMO ingredients, no artificial colors or flavors and no preservatives
Now we will take a look at the Espira PM Restore product and how it works. 
Stimulate Collagen Production with Espira PM Restore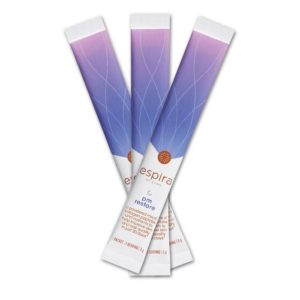 These single serve packets will be taken in the evening with 6 to 8 ounces of water.  The taste is quite pleasant.  It is refreshing with a citrus flavor, but if you don't like the flavor you could mix it with your favorite flavored water.
Helps repair, restore and rebuild.† An antioxidant and Bioactive Collagen Peptides® stimulate your body's natural mechanism for building new collagen for younger, firmer, healthier-looking skin.†
• Single-serving powdered-mix packets in refreshing flavor Pink Citrus
• Gluten-free
• 30 packets
• Non-GMO ingredients, no artificial colors or flavors and no preservatives
So the question you may be asking yourself is have I seen results and does it work?  Yes,  I have seen a difference in my skin since I have been taking it and now that I am in my 50's I will continue to take both of them on a daily basis.  
Here are a few more reviews for you: 
Along with the AM Protect this is the best product I have ever used for my skin, nails, and hair. I have been using the combo for almost 2 months now and for the 1st time in my life my acne as cleared up….and I am 61! The only reason I didn't give it 5 stars is cause I don't like the citrus taste. Wish it was tasteless. I mix it with flavored water and down it fast.. LOL!

I have been using PM restore for not quite a month. My nails and hair seem stronger but still waiting for the radiant glow. I am not a fan of the taste of the powder and wish it was unflavored so I could mix it with my flavored water. (Espira PM review)

I like this product, I believe it is helping me with hair loss. I try to buy it on sale whenever possible. (Espira AM review)
About Espira
A customized health and wellness line formulated with ingredients to boost and sustain your natural energy, restore your radiance and support your overall health.† Experience results you can see and feel.
† These statements have not been evaluated by the U.S. Food and Drug Administration. This product is not intended to diagnose, treat, cure or prevent any disease.
Want to learn more about these products that stimulate collagen production or about the other Espira Line of Products?  Click HERE.  
More Resources:
Need more energy throughout the day? 
What are Hydration Supplements and do I need them?


Beauty Tips and More
Shopping Posts