Rice Water Bright Foaming Cleanser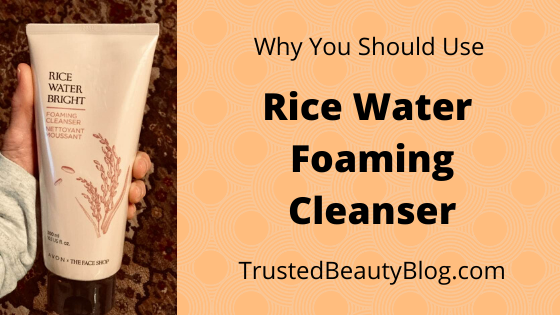 Have you ever heard of rice water as a facial cleanser? 
Can I just say before you get started reading – Oh, my goodness!!  Just look at the size of this bottle.  LOL…  Great – Now that I have that off my chest.  Keep reading.  
Before writing my blog posts, I like to do a little research first and found, according to Wikepedia – Rice water is the suspension of starch obtained by draining boiled rice or by boiling rice until it completely dissolves into the water and has been used traditionally in the treatment of skin and hair.
Rice water has vitamin B, C, E, and minerals, which help in tightening skin and shrinkage of open pores on face. It also promotes skin cell growth, stimulates blood flow, and slows down the aging process.  It is also known to clear up acne. 
Rice Water Bright Foaming Cleanser was developed in Korea and has brought this product to Avon's line of beauty products.  
AVON x THE FACE SHOP is an exclusive collaboration that brings super-luxurious Korean beauty products that are influencing the world.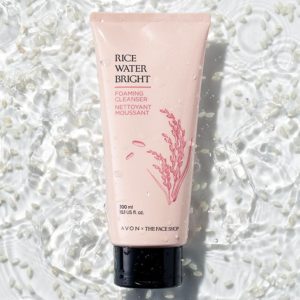 Rice Water Bright Foaming Cleanser:
Rice water, the milky white water obtained from rinsing rice, is enriched with vitamins A, B and E, ceramide and minerals to help skin feel moisturized and look radiant. Our foaming cleanser produces a whipped cream-like texture that softly glides onto the skin to effectively remove makeup residue while moisturizing. 10 fl. oz.
BENEFITS
• Cleanses and moisturizes in one
• Creamy texture lathers up into a rich foam
KEY INGREDIENTS
• Rice water and soapwort extract – leave skin clearer and with brighter tone
TO USE
Use AM and PM as necessary. Lather a small amount of foaming cleanser with water and gently massage onto your face. Avoid eye area. Rinse thoroughly with warm water and pat dry.
Made in Korea
Some Customer Reviews:

Works very well on my skin, Smells lightly but in a good way. Huge container. Great Value!

It is alot bigger than expected! Love the feel , smell and creaminess. Love that it foams and I don't need to use alot to get my face clean.

This is a great face wash! Lathers very well and you dont have to use that much of it. Keeps my face very clean. Great value! I'll definitely buy again!

I'd recommend this. I've been using it daily. We get the polar vortex cold where I live. My skin does look and feel better after using this.

I had skin cancer twice with the surgery so l am very careful about what I put in my skin. This cleanser is so gentle and makes my skin very soft and not dry! The light sent is a bonus!

A Big Bang for your buck and it's very moisturizing

I LOVE THIS CLEANSER! It comes in a huge size, it only takes a pea size amount to get a rich foamy lather that removes ALL my makeup without drying and stripping my skin. The scent is light and fresh. My skin looks amazing! I hope product never goes away and never changes.


Beauty Tips and More
Shopping Posts